We can't resist sharing some great finds from children's brands we love!
---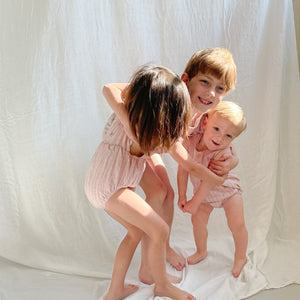 I feel certain I'm not the only one noticing that feeling of wanderlust bubbling up as the summer heat arrives and the fog of the pandemic begins to lift.  We told our kids we were planning a road trip along the Atlantic Coast and their immediate response was "Can we pack our suitcases?!!!" Our response, "Heck yeah!!"   Here's what we're packing for our littles and why:    Brother and sister are a match set in our henley bubble (him) and ruffle sunsuit (her) in Old Rose stripe. Light as air organic hemp and cotton blend fabric make these pieces a...
---
  Mom Reading Books That Bring Out Our Best Dr. Kate Freeman is the creative mind behind Harbour but she's also a full-time doctor and a mother of five. And she's constantly on the hunt for empowering books that inspire women to be their best. Here are a few of her favorites:      Happiest Baby on the Block  "A must-have for first-time moms and dads. Let's face it, everyone NEEDS to know about swaddling and shushing."   This Naked Mind  "I love this because it's a real eye-opener and is more informative than instructive. It provides great insights on alcohol...
---
We sit down for a quick chat with mom, designer, photographer, and tastemaker Lucy Cuneo to talk about
children, style,
 and life in Martha's Vineyard.
---
Children should be able to move their arms and legs with ease, crawl, climb, jump, and run. Equally important is that they feel the textures around them, grass under their toes and the wind on their skin.
All of this translated into all-natural fabrics for my baby, and now for my designs at Harbour Clothing.